Let's start all over again.
Maniac Mansion, The Settlers, Monkey Island 1&2, Oil Imperium, Diablo, Wing Commander and much more

Spieleklassiker
I was born in Onsabrück and have been settled in Dortmund since March 2007. I am now based in Bad Essen, Bielefeld and Enger. Here I live and work and even have the privilege to ride my bike to work, which I do every day.
As already mentioned, I became enthusiastic about technology quite early on. But how could it be any different from a child, for games? When writing these lines I notice that I don't know how it started. Anyway, I got a lot of great game classics at that time. There are definitely too many to list them all.
486DX/2 (66 MHz)
4 MB main memory
512 K graphics card
40 MB hard disk

My first PC
1994 at Christmas came the turning point, when I got my first PC. In the beginning games were more important. But here one was inevitably introduced deeper into the matter, solely due to the fact that one had to squeeze every bit of memory out of the system to start a game. More precisely, who doesn't remember "gladly" the "good old" times, when you had to experiment with the device drivers HIMEM.SYS and EMM386.EXE to get more than the available 640 KB. From here I wanted to know how it all works. How can I write my own programs? So what do you do as a child? You open an exe file and think that can't be. But where to get information from? Especially at that time? So there should be a few more years in the country.
Cover: Jetzt lerne ich C
In 1998 I got my first book from the publisher Markt + Technik

. The book in question was called Jetzt lerne ich C. I can still remember how often I had to read the book, not because it was badly written, but because of the equally complex matter. All the new expressions if, for, array, malloc, function, fopen, pointer, constants, strings and numbers, that had to be digested and understood first. Unfortunately, as is usual today, the book did not include a CD with a compiler. So I had no choice but to understand everything. At that time I always wrote the exercises on sheets and checked them afterwards. I even mastered quite complex sorting algorithms. But even now it should take another year until it became interesting for me.
In 1999 I went back to school in the hope that I would finally learn programming here. So with full courage and zest for action I registered at a school and wasted 2 years of my life. Why? Quite simply, it was an electrical, vehicle and metal engineering school. Sounds not bad, but to be honest it was offered a training as a media technician (MT), later it was called assistant for information technology (AI). Why have I lost 2 years now? What I wanted, programming, was only taught 2 to 3 hours a week and to top it all off, I didn't learn anything at all but was bored to death. Ironically, I have to admit that 2 hours a week was also taught Internet technology. Unfortunately I wasn't interested in that yet. In summary, one can simply say that the training did not meet my expectations.
How I came to PHP now was due to the 2000's Unreal Tournament Mod S.W.A.T later released and many probably honestly known as Tactical Ops. Here I got to know many great people with whom I founded a clan. At the beginning our clan used external scripts for our clan page. Sometime in 2001 I took over the position of webmaster and developed the scripts. The programming was quite easy for me, because PHP is very close to C concerning the syntax. What was a big problem was the whole new HTML stuff like tables. Even more frightening was the topic databases. Fortunately there was already phpMyAdmin

at that time. A little later I published the community page www.to-today.de. This was my first project that I had programmed from A to Z except the forum myself. There I also offered my first self written script, the root's Warscripts. You can download the script and have a look at my first modest steps.

404

Against cheating
The Team 1

The Team 2

Key Binding Information

Comments
News

Profile of Lord_Nikon

to-today Scripts
User list
At the beginning of 2002 I started an internship in a digital agency in Munich. In the 3 months I spent there, I learned more than ever before. I can only thank you for the super 3 months and apologize for the miserable departure. If things had turned out differently, I might still be working in this great company.
Immediately afterwards, I completed my compulsory military service.
After the end of compulsory military service, Marc-André Klimke, Nico Schuster and I founded Gaming Network GbR. With very little starting capital and our first servers at the company 1&1

we started on the gameserver market. Also here I was responsible for the programming. Quickly I had to acquire new skills. The server had to be started, FTP's had to be created, games had to be installed and many other things had to be controlled live and centrally - all under Windows. In the beginning I used batch files, which worked fine up to a certain point. But the more complex the site became, the less you could reach it with on-board resources. And from that point on I came to C#. We hired a programmer to implement our wishes with C#. The release of the source code was also agreed upon and so I could look at the syntax and was immediately taken with the language, there were suddenly no more limits. At first it took a lot of getting used to to having to program type-oriented all at once and it robbed you of your last nerve at the beginning, but meanwhile I miss C# aspects in PHP programming. Of course PHP still has one or the other advantage and with both together I get along very well.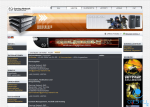 Copyright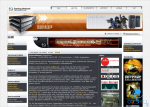 Connectivity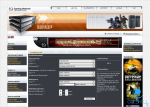 Order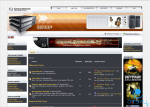 Board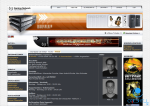 Imprint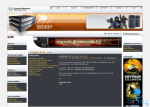 News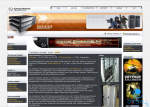 Computer center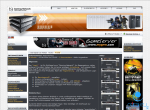 Webinterface 1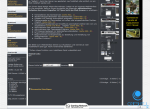 Webinterface 2
My further career catapulted me back into new terrain, namely into the call center industry. Over 3 different employers, I ended up with my current employer where I still develop call center software. Here I learned how to use Linux and how to connect different systems with each other, I used the in-house interfaces of the required programs, self-written interfaces based on SOAP and own TCP/IP protocols. Difficulties were caused to keep the times synchronous and to be always performant. The topic of caching also came to the fore. In the background, time-consuming tasks had to be executed, summarized and processed.

Simba and Bagiera
Destino and Bagiera
Currently I live together with my girlfriend Sabine who is not very interested in technology. She is a trained cook and likes to watch cooking shows and a lot of VOX closely followed by RTL, SAT 1 and Kabel 1. As she cooks passionately, you can imagine if I walk through life lean and slender or strong. I also owe her my first pets. Those would be in particular the tomcats Bagiera and Simba. Unfortunately Simba didn't survive the 2010 World Cup. As a replacement, Bagiera got the tomcat Destino put aside. Both are still alive and can get along more or less well. Maybe I will also dedicate one or the other article to them.