Quickly jumped up to look out the window, I noticed for the first time that I see nothing. Since I have forgotten but smooth set up my glasses, believe it or not but that's never happened to me. This set up quickly and again looked down and saw nothing unusual at first. Because of all the hectic movements I heard a rumble in the background of my girlfriend what's going to be. Easily explained and promptly get an answer. There is no try it with a treat, Bagiera hiding determined only. Said and done and no Bagiera. Then broke even with your little panic. How quickly women can only be.
While I was still attracted my clothes She was already down and bellowed, that I should arouse Manuel. Quick awakened Manuel explains what's going on and downwards. Sabine had found cowering under the garage entrance in the corner Bagiera. Last Manuel met with one of the Catbox. Oh why the Catbox? Quite simply, Sabine saw immediately what with his right hind leg was not right, what was wrong exactly with the legs and what was to come at a cost to us, that should be a hit in the pit margin are. So lifted carefully and packed in the box.
What came next? Of course, drove directly to our veterinarian and had plenty of pork. After we had rung the bell storm, then introduced us to a nice doctor and asked what was going to be.
On the Fast explained what happened and get the comment "ok then X we first plus that you had today really had no service and we lucky to have met you today".
After X told us the health care professional that you can not help us at such a fraction, also was suspected that the bubble might be torn, because this one could not see 100% on the x-rays. She recommended a referral to Duisburg to the vet. But the initial treatment would be no problem.
During the initial treatment (the wound was cleaned and a support bandage applied) told us the doctor while with that we actually had bad luck because cats themselves would survive falls from the fifth piece without prejudice. Wow what real inappropriate comment I thought. After it went to great trip to Duisburg. Previously, we have of course dutifully paid and indeed proud 160 EUR.
X-ray of the side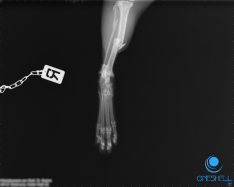 X-ray of the front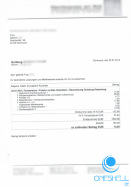 Billing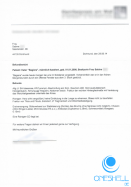 Findings
Arrived in Duisburg we had to wait a few minutes after the registration. And again received us a nice vet (there are actually men vets?). Here we were told that there is a compound fracture and would be an OP of distress. And when he came, the first unfair blow to the gut. 800 EUR should cost the fun. Of course there was nothing to think, and we have agreed directly. If the bubble contrary to expectations but his cunning, should again 200 EUR come on top. Say proud 1000 EUR. Quickly adopted by Bagiera and waited for the phone call that all is OK.